Post by Rasha Sagara on Nov 17, 2006 12:35:47 GMT -5
((OOC: Like stated it's not fully complete... I'm a bit busy but I thought I at least put something here for now...))
Name:
Rasha Sagara
((Pronounced- Ray-sha))
Race:
Half breed
((Half human/ half demon))
Occupation:
Apprentice Demon Mage
Height:
5' 4"
Weight:
125lbs
Age:
16
Hair Color:
Light Blue
Eye Color:
Gold
Appearance: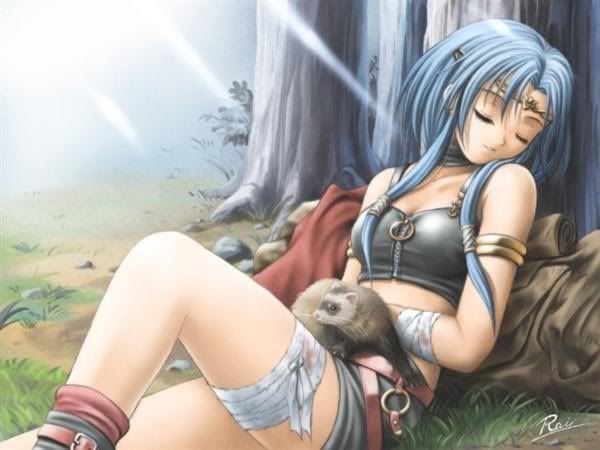 Rasha has a fairly toned body due to the fact that she didn't trust train using her magic, she trained herself in hand to hand combat. Sometimes she tends to be an in your face fighter. She has long beautiful light blue hair that stops in the middle of her back. Usually there's always a few locks of her hair in front of her, being tied just close to the ends - while the rest of her hair flows freely. She has beautiful capativating gold eyes, that are partically irrestible to some. Her skin isn't necessarily pale it has a bit of color to it. She doesn't really look like a demon, truly she looks like a human more than anything except of course for the gold eyes. Her ears aren't those normal elven like ears, she has regular sized human ears but they are just pointed at the tip and one can't really see them if her hairs covering it.
The golden band that is seen on her forehead, is something she had worn ever since she was little. It looks like a simple golden twisted band, but it's an indicated of her royalty. Only those who have been to her kingdom or know her would pick this up. One thing is she hardly ever takes it off. Exactly what you see in the pic minus the wraps is something that she might wear once in awhile, usually when she's outside in nature. Other than that she would probably wear "fairly" normally clothes.
Personality:
Rasha is a rather calm person when it comes to most things, not many demons can be so calm. Yet then again Rasha is a half breed so she, in a way, it doesn't necessarily fully apply to her. She is a kind and caring person who never believes that she is above the rest. Though despite being kind and caring, she has her darker side to her as well. Sometimes she can be a bit mean or "evil" so to speak, but that is of course if that demon side within her takes full control. Other than that she's a pretty easy person to talk to that doesn't go looking for trouble, but usually manages to find it. She also has a very playful personality and can be quite spontaneous or random sometimes, which would make her rather fun to be around. She is also a very determined girl, who will stop at nothing to achieve whatever it is she desires - which currently is to recover her memories.
She has a strong passion for nature's beauty and it's animals that inhabit it, that is due to her time with Ms. Cassandra. Though half human herself she was still taught when she was young to be cautious around humans for not all are friendly and accepting of demons or even half breeds. Being that she is suffering from memory loss it's more like a constant voice that rings in her head, warning her about them so she deals with them with caution. Also due to her memory loss she often feels a bit sadden sometimes for she feels that there must've been people in her life that were important to her and she can't remember them.
Style:
Sagara Onizuka Sorceria
The Sagara Onizuka Sorceria that Rasha uses is based on both her father's magic styles, also including her mother's as well. Having many people to learn from, she has different styles. And do to these styles and her teachings she is fairly well balanced offensively and defensively.
Shadow technique, Fire element:
Learned from Zane Sagara
Blood bending, Illusion technique:
[/b] Learned from King Dorjan Onizuka
Qi ability:
Learned from Queen Katharine Aomori – Onizuka
Adding to this would be the techniques that she learned once she was found after being captured and jumping off the cliff.
Earth element, healing:
[/u] Learned from Cassandra Santos
Strengths:
Physical
Being half human Rasha has a bit stronger tolerance to low level light and holy spells. Rasha's abilities are fairly well balanced, being the fact that she uses hand to hand combat and weapon fighting besides magical skills - her offense and defense are quite well balanced.
Mental
Rasha never rushes into a battle or fight without thinking. Even during the battle she is constantly thinking. Her movements or whatever magic she chooses to use is based on what she believes is best. Her thoughts are fairly well thought out due to the situation. Her strong will to keep going on in life and to find her past is her drive to keep pressing on. She will never give up in a battle no matter how badly hurt she is - if she can still move she will try to attack, if she still has some energy/mana left she will try to use it.
Weaknesses:
Physical
Being that Rasha is a half demon, she is a bit vulnerable to light and holy spells as most demons are - but low level spells will not have such strong affects on her. Being that she is half human her tolerance to such things are a bit stronger, though a low level light or holy spell would daze her a bit but only for a very short period.
Mental
Rasha tends to suffer from dreams/nightmares of her past that she doesn't remember, but desperatly wishes that she did. Sometimes she gets flashes of her past even when she's wide awake and just relaxing somewhere. But wanting to remember her past so badly could lead her to the wrong person if they know this about her - they could probably take advantage of her. She would practically do almost anything for a clue to her past.
Spell List
*Whispering Wind:
[/u]
This technique or rather spell is a spell learned from her mother. What it is exactly is a form of communication with the non-living. It's really not a summoning spell, though it might seem that way. This spell only allows her to speak with a spirit, not control them or call them forth to assist in battle. This spell takes a good amount of focus and concentration to perform, yet it takes little energy- unless she is maintaining it for more than 5 minutes; then it will truly begin to drain her. She is able to get in contact with a spirit; or rather any spirit could get in contact with her in this state considering the fact that she has yet to fully master. Even if she is just trying to channel a specific one, others could intervene. Which would make this a fairly dangerous spell at the time being to use. Considering the fact that an evil entity could come forth and possible attack her in her vulnerable state.
Shadow Technique
[/u]
*Shadow Imprisonment:
[/u]
With this spell she is able to imprison her opponent's shadow. In order to do this she could either use her own shadow or any other shadow; such as maybe the shadow from a tree, etc... and stretch it to reach her opponents shadow. Once her shadow makes contact with the opponents, their shadow becomes imprisoned and the person is unable to move. In truth the only movement the person would have use of would be their eyes and mouth, other than that they will have no use of their limbs. For now their body would be under her control; their body would mimic her every movement like a puppet... or rather like a shadow. But two little things; One: she can stretch her shadow but so far if there's not other shadows to help extend its reach. And two: she can only imprison maybe one at the most at this time. But by doing so it would take a toll on her energy. Just imprisoning one takes a rather small amount of energy and concentration.
*Self Shadow:
[/u]
Basically with this spell, she is able to create clones of herself out of the surrounding shadows. The clones won't appear as exact look alikes, rather just shadowy figures of her. At her command only would they attack. Depending how much energy she uses, determines how strong the clones would be and how many she would be able to create. Being the fact that they are basically shadows, a light spell would easily destroy them without a doubt.
*Shadow Creatures
[/u]
With this she is able to create creatures out of the surrounding shadows. Depending on how large the shadow naturally is, would determine how big the creature could possibly be. Not necessarily having to create one large creature she could also create a few smaller ones to use instead, which would save some energy. Once she would give the command to attack the creatures will attack relentlessly without stopping unless she said so.
Fire Element
[/u]
*Fire Whip
[/u]
If there is fire anywhere around her, she would be able to manipulate it and form it into a whip for her usage. Being that it takes a rather mild amount of energy to use, she can make the whip as long as 5 feet long at this time.
Blood Bending
[/u]
*Bloody shield
[/u]
*Blood Serpants
[/u]
Illusionary technique
[/u]
*Illusionary Death:Qi ability
[/u]
*Atom Bomb
[/u]
With this spell she concentrations her energy into formering a ball within in her hands, then still using her engery wrapping two rings around making it look like an atom. This takes a good amount of energy to use. Once the creation is formed she can throw it at her opponent. The creation would slip into three once close enough and the ball should it hit the person and the rings will wrap around the the person holding the ball in place. Once that happens at a snap of her fingers the ball and rings would explode.
Healing*Heal
[/u]
It's self explanatory. Basically enables her to heal many kinds of injuries. But depending on the severity of the injury that would determine how much energy she would have to use to heal it enough that the person would not die or lose any more blood from it. With more energy to use she would be able to heal a massive wound completely.
Earth Element
*Earth Rengeration
[/u]
It's practically the same as the healing spell, though this spell is strictly for healing nature. Whether it be a wilted, dying flower or maybe a tree that was cut down – it's stump left behind. She would be able to regenerate the flowers and the trees, bringing it back to it's former glory.
*Shock wave
By either slamming her fist into the ground or even stomping her foot rather hard on the ground, she would be able to create an earthquake under the feet of her opponent causing them to loose their balance, also opening up a whole from the wave.
*Nature's Aid
[/u]
This spell enables her to call forth the plants, vines etc.. that nature has to offer to help her. Using her energy and concentrating she would be able to call forth the plants, and vines to grabbed and entangle her opponents; possibly more.
Weapons/Gear
Venegance:
[/u] A dagger given to her my her real father that she doesn't remember at the moment. And because of that she doesn't know the power it truly holds.
Bow and arrows:
[/u] Given to her by Ms. Cassandra. But she doesn't usually carry it around.[/center]
((OOC: Right now, what she can't remember has nothing underneath. As she goes along their would be more added to. There was supposed to be a few more but my head hurts.. I'm basically done.))