Post by Raiden Matsutani on Dec 6, 2006 23:31:01 GMT -5
Name:
Raiden *Lightning* Matsutani
Nickname:
Rai
Occupation:
Apprentice *Lighting Manipulator*
Nationality:
Japanese
Race:
Demon
Type of demon:
Yokai
Height:
5'10
Weight:
150
Age:
406 *appears to be in his late teens (17)*
Hair Color:
Black and some silver highlights at the ends.
Eye Color:
Crimson or Ruby Red
Appearance:
Raiden is a demon with features of canine decent including a few traits as well.
Raiden like in his picture wears no shirt. Also a major attribute that Raiden has is his ruby red eyes, which may implicated that he's not human. Also his nails are a little longer and are pointed unlike a human's finger nail. Another demonic like attribute Raiden has are large canine teeth(fangs), but are hidden most of the time because he only say a few words or doesn't even talk at all. In description his hair is also long going down his back. They're tied up in two seperate pony tails wrapped in bandages. His physique is alittle more on the thin side, but slightly muscular as well. Overall Raiden appearance to other may be within the degree of
"Bishonen."
Although Raiden bares no femine traits except for his politness and timid nature.
Second Form:
----Coming Soon----
Personality:
Raiden is not exactly a very socialable person. He's not stuck up or anything, but he's very reluctant to talk or even socailize. (It stems from other being's dislike of demons.) In overall terms he's more of the silent type, and man of very few words. Otherwise he's got a good heart. Doesn't attack people just out of the blue...in fact being he has some samurai training he's a very honorable person. If someone issues him a challenge in anyway possible he'll accept out of instinct. Also girls make him very nervous, and he stutters when he talks to them and sometimes he says the opposite of what he meant. These kind of traits makes it hard to believe sometimes that he is a demon.
Demon Personality:
*This is the way he acted in the past. This is also the way me may act in battle as well.*
As for a in battle personality, Raiden eyes become fierce just like in my sig. He is still primarily silent. Get him angry and he will seem cruel and relentless in showing his hatred for anyone. Only time his cruel demonic side shows up is if shows a certain distaste for the person whom he is fighting. Focusing on who he hates, normally demons don't take a very good liking to humans. Raiden infact shares that sense. The only being he would show a certain brotherhood with is unnatural beings like vampires, and other non-human beings like himself. The only time this kind of attitude manifests is when Raiden is being discriminated against physically such as being bullied by others. Raiden very much dislikes this side of him and does his best to shield this from others.
Family:
Mother *step mother*: Kazumi Matsutani
History:
Raiden is a humanoid demon from Japan. The main reason why he's so old is because he had been sealed away by his step mother for his destructive behavior. Raiden's name as you guess means "Thunder and Lighting" Raiden is an ancient lighting demon from the times of Edo period which began in 1600s. *Early Modern Japan* Raiden's origin of birth is currently unknown to him. He was found on the edge of a village as a child by a priestess named Kazumi. She named his Raiden, because one the day she found him lightning had struck a tree nearby almost landing on him. She raised him as his own and taught him everything she knew.
Oneday she had noticed that his hair stood on end for no apparent reason. By accident he had an outburst in demonic energy. It also became apparent that his eyes were red and not brown. She came to the conclusion that he is a demon and is not human. She kept this secret to herself, and even told Raiden he's a normal human just like her just blessed with special gifts.
One day alone in a forest, Raiden encountered another demon like himself. Raiden raised by his mother, wasn't the kind of bold demon infact. The other demon became intrigued by Raiden's action and chased after Raiden. In no time flat Raiden was caught by the demon. Raiden was whimpering in fear which made the other demon cackle in laughter at Raiden's plight. This is where the other demon decieded to do alittle prying. The demon spoke to Raiden telling Raiden of what he truly is. How sometimes Raiden felt the hunger to kill others...eat flesh of humans even. How Raiden possess strenght of no ordinary human, speed unattainable by others. With that the demon left Raiden alone...
Raiden pondered on these thoughts and began to wonder what he could really do... That when one day...it was thundering. Lightning strikes and thundered shouted through the heavens. Raiden had a disagreement with his mother and ran away into the storm. There was a tree out in the middle of a plain all alone. Raiden sat under the tree to wait out the storm. Suddenly a flash lightning came down from the heavens striking Raiden. Like any other magical being he had mana to begin with, but then being introduced to lightning like that mixed with his abilities. After that incident Raiden was found unconcious under the split tree by his mother.
A week later Raiden was bathing and he noticed a strange tattoo that appeared on his chest. Strange as it is...it resembled a bolt of lightning...
While Raiden was in the village so kids were constantly picking on him for his red eyes. Now that his eyes were shown to be red, many pestered him. Shunned...him... Raiden was fine as long as he knew his mother loved him. But oneday it was taken to far when some grown man was pestering his mother. Before things had gotten to far Raiden out of rage shouted, "STOP!!" When that happen suddenly lightning shot out from him striking the man, and killing him. His mother was shocked and scolded Raiden for doing such a thing.
Raiden...felt hurt...he was just defending his mother...most of all...it was an accident...
As time went on Raiden's nature kind of deterierated and he became a little violent. Cause trouble in the village and even starting fights. Oneday he went to far when he attacked the village. He was stopped by Kazumi and was deemed too dangerous to be keep living. In that fight between them Raiden wounded her.
That night she was going to kill his in his sleep, but could not do it. The next day she decide to play a trick on Raiden. She would lure into the shrine she tends to and seal him up in there by binding him with chains with a special incantation circle on the floor. The plan worked, he was on the verge to going into a deep sleep. She noticed his face had a painful, sorrowful look of despair on it. She felt that she had deceived him and died of grief for hurting her son.
It is now present Japan and industrial build up has become great. Still the shrine he has been sealed away in is still intact. But, by accident he was freed from his prison when it was knocked down. He's now escaped, shocked by the day and age. He fled from Japan mainly because of Kazumi's descendants and mostly because he needed a place to stay. That's where Arcane Academy a place of refuge and retreat, reached Raiden's ears...and he found his way...
Since he's been at the academy he's learned many thing and has had many new experience. He's also taken a chance to inprove his samurai skills and learn Bushido(Way of the Warrior) a much more honorable way to fight than his old hack and slash style.
Strenghts:Special Traits:
The following special traits are traits Raiden has because he's a demon.
Senses:
Raiden's eyes gleam most times for a reason and that's because they contain a special ability. His eyes for one thing are able to glow in the dark. ;D Also his eyes can see through smoke, storms, etc. and some lowered leveled illusions if the person has less wisdom than him. He also has highten hearing and smell as well which both can work for up to miles away.(Thanks to magic as well...) Most apparently he seems to resemble traits of a cat or dog, but that won't be clarified yet until his true form is unlocked.
Strength:
Raiden as a full blooded demon has god given strength also. He he is at least strong enough to easily lift a boulder with a diameter greater than the height of his body over his head with one hand, and then run many miles with it.
Speed:
Raiden like lighting is fast individual not becuase I say so, but because lightning is also energizing. Getting down to the little bits lightning has a wavelenght. Like in photosynthesis, light energizes electrons. Well, the same thing happens to Raiden's body alone, making his steps and movements extremely quick. This for the most parts allows him to move at high speeds, but not so much that it seems like he's teleporting. Not only speed by he has very good agility and response. Almost catlike in nature. With speed and agility coupled with his small thin frame, Raiden can be a very acrobatice opponent. I'll clarify that when he reaches 30 in Dex.
Defense Ability:
Also since lightning is hot and I mean techincally its hotter than the sun, he's got a high immunity to heat(fire) based attacks. Raiden's physique is capable of taking a lot of damage, more than the average human. He seems to be unaffected by blunt objects(staffs, clubs, etc.) for the most parts, but is affected by objects of the slicing category. Raiden as its known manipulates lightning. Raiden has tolerence against lightning. He also has high tolerance next to immunity to poison baised attacks as well.
Weaknesses:
*Just to be fair, my list of weaknesses are rather large to match up to the list of strengths he has.*
Raiden lightning can be stopped depending on the environment. If the ground for example is sand, it would be quickly dispersed into the ground causing harm to no one. It doesn't work if he does try the indirect approach to electricuting someone. He is also weak against any attacks that involve the hinderence of his nose, because it has great smell capabilties. Hearing is also effecting with high pitched noises like ultrasound. Those things can be taken advantage of by smart hunters. Being a demon he is also weak against holy baised attack and elemental light attacks.
Mental weakness:
Raiden's mentality isn't bad at all. He doesn't fear others even though he's quiet around others. The huge hinderence is that he dislikes mothers. His mother sealed him away so he feels betrayed. Its more in the category of fear than hate.
Fightning Styles:Bushido(click here):
(Not a fightning style, but a moral concept.)
This is Raiden's main mind set when using his sword(s). Raiden not only being a tradition Japanese demon, but is a tradition Japanese samurai as well. He's very strict on the Ways of the Warrior except for the suicide(seppuku) which he's no longer a loud to do.
Iaido/Battojutsu:
This is a style Raiden imploys 'quick draws'. This is where Raiden suddenly unsheathes his sword in an inhumanely fast pace for any position whether he be sitting, standing, or even laying down. Its a defensive and offensive style that is always put into use by Raiden. This is also the beginning of a series of attacks following the quick draw.
[glow=green,2,300]
Magical Styles
[/glow]
Demonic Abilities:Poison Claws:
Just like its name Raiden can release poison from his claws. If touched it can burn through flesh on contact, but not lethal. Raiden can whip it out at his foes, or if he punched the ground corrodes anything within a 6 foot raidius.
Lvl 1: 6 foot raidus
Lvl 2: 8 foot raidus
Substitution:
This lets the user quickly switch places with another nearby object, such as a plant (normally a section of a log), an animal, or even another person within reach, leaving the opponent open to a counter-attack.
Lightning Manipulation:
Raiden uses lighting just like his name. In retrospect he can manipulate lightning. He has been known to make lightning spout through his finger tips, but it can be used in other ways to like palms, or even from his mouth. Lightning on a known basis in one flash a bolt of lightning ends up being hotter than the Sun.
Taking Note that most of Raiden's attacks are based on foreign lightning and thunder gods.
Stat Increasing/Decreasing Spells:
Iris Flash:
This move implicates blinding the opponent. As anyone can see Raiden's eyes are like gleaming ruby's. A special ablity of course comes along with this. In sort terms Raiden's eyes flashes causing blindness for a sort period of time.
Lvl 1: 2 seconds of blindness
Stat Effect on Opponent: -1 Dex
Lvl 2: 4 seconds of blindness
Stat Effect on Opponent: -3 Dex
*decreases in stats last for 4 of the opponent's posts*
Lvl 3: N/A
Hype-speed:
Hype-speed involves Raiden moving at highspeeds like a flash of lighting. So fast it makes it seem like he's teleporting, because the opponent can't seen him instantly. He can atleast keep his speed like at or away from or to 6 feet in radius of anything his fighting against.
Lvl 1: Raises speed by 3.
Lvl 2: Raises speed by 5.
Lvl 3: N/A
Battery Charge:
Battery Charge is a spell that Raiden uses to gain energy for use in several different outcomes. Raiden absorbs energy from any source possible raging from animals, plants, or anything living for that manner. Raiden takes that energy and converts it into his own energy. The blue jagged like tattoo on his chest glows when this spell is in use.
-One use is that he uses this as a form of regeneration of his own body. Right now at best he can't heal fatal wounds, but can heal severed limbs, cuts, bruises, gashes, etc.
-Second use is that he can use it to gather up energy to transform into his true form. As soon as this spell is activated it takes three turns for another energy to be gather for the transformation.
-Third use is that he could just use this spell to gain some extra energy to use on other spells.
Spell List for Lightning Attacks:Rai:
Rai is just a normal lightning strike. It only takes out a small fraction of his energy. He simply spouts lighting from his finger tips. This move is more of a long range shot, but it can be used up close making it alittle deadly. This move is very versatile, and it changes depending on the way Raiden is pointing his hand. (Pointing one finger, open palm, and etc.)
(Forms of Rai)Two fingers:
This is a regular shot with is one bolt. This can be used through the mouth as well. This move can be used in rapid fire with several or more lightning bolts be launched repeatedly.
One finger:
This is a piercer type shot which the lightning bolt is almost concentrated like a laser beam. Because this beam is more concentrated it cost less than a any other form of Rai.
Open Palm:
This form is where the open palm disperses a larger shot in an uncontrolled way. The range spanning about 6 feet once further out. Its like a shot gun. This cost slightly more energy than any other Rai form. This can be used through the mouth as well.
Power Whip:
Just like it's name Power Whip is basically a whip of lightning. Raiden points his index finger and ring finger making a lightning bolt come out, but instead of letting it fly he whips it around like a whip striking anything in its path with searing heat. This uses up twice as much as Rai because it takes some control to keep lightning in its whip like form.
Raigou:
Raigou in appearance is a ball of electricity. Raiden forms this by rubbing his hands together in a circlular motion slowly seperating them forming a ball of lightning. Its his strongest attack so far. It explodes on contact with a sudden surge of electricity. Its size can differ... Its apparent effects is that anything metalic will be attracted to it if not be followed by it as well until contact.
Lvl 1 Size: About the size of a beach ball.
Lvl 2 Size: About the size of a monster truck tire.
Learned Abilities*Class taught*:Second Sight and ScryingSecond Sight:
He can uses scrying and other methods to see clear visions of what is to come in the near or distant future. Though not really a spell, it should be noted here. Taking into note, Raiden learned this in class from a great Sage named Renari. Currently Raiden has only been introduce so this method won't always work out for him.
Level 1
At level one, Raiden is able to see far ahead enough to determine two incoming attacks. He cannot see any further beyond that.
Demon Defense*Demonology*Soul Shield:
N/A
Weapons/Gear:
This is the katana he uses. He is quite proficent with his blade.
Gauntlet Pic: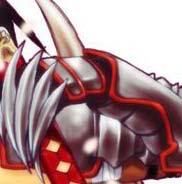 He also has a pure silver gauntlet on *in pic* which he uses for melee attacks, but also an easier source for dispersing lighting and even intercepting lighting too. Its also used for blocking weapons like staffs, knife, blades, and bullets. In details the fingers of the gauntlets are pointed like daggers of some sort. This can add to his feral like nature when fighting.
Items:
Please Put your Item list here; Note when I say items i mean Stat Increasing Items or Items given to you by the Staff
Note: Nothing too important at the moment.