Post by Vorg on Dec 18, 2006 13:06:29 GMT -5
Basic Information:Name:
Vorg Zangief
Nicknames/Titles:
Небольшой Детёныш (Little Cub)
Faction:
Republic of the Beast
Arcane Academy
Team:
N/A
Occupation:
N/A
Rank:
Apprentice Shaman/Beast Warrior
Nationality:
Russian
Race:
Wolf
Species:
Eurasian Wolf
Appearances:
~Wolf Form (Normal)~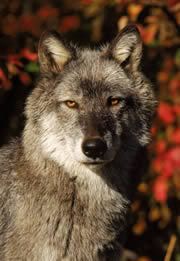 ~Human Form (Transformation)~
Age:
17
Height:
Wolf: 2'8 ft
Human: 6'1 ft
(Wolf) Length:
5'7 ft
Weight:
133 lbs
Arm/Front Legs Length:
Wolf: 1'4 ft
Human: 2'3 ft
Leg/Hind Legs Length:
Wolf: 1'4 ft
Human: 3'2 ft
Head/Neck Length:
Wolf: 1 ft
Human: 1 ft
Blood Type:
O
Gender:
Male
Sexuality:
Straight
Eye Color:
Wolf: Golden Yellow/Brown
Human: Hazel
Hair Color:
Wolf: Dark Gray to White
Human: Black
Hair Length:
Wolf: 7 in.
Human: 6 in.
Hair Style:
Wolf: Natural, Wild
Human: Wild
Hair Texture:
Soft, Smooth, Cozy
Birthday:
October 30th
Couple Status:
Single
Status:
Virgin
Pass Time Information:Hobbies:
Learning more of normal human society, practicing spells, eating, listening in on/to other people, observing other people.
Talents:
Fighting, Listening
Favorite things:
Being petted, meat, listening.
Mental Information:Personality:
Being among 'people' as a wolf, Vorg generally gets along pretty well, being at ease with himself, and can be fairly friendly. He's a bit submissive, but fiercelly loyal, above all things. However, in his more exposed, furless human form, there is a hint of self-conciousness in the way he acts, being uncomfortable with the knowledge that he is naive on what some humans would consider to be 'basic knowledge', and doesn't like making a fool of himself, when possible. But, with his unfortunate mix of curiosity, it's unavoidable. Due to constant exposure, and some guilt of being a bit of a 'wolf in human clothing', he can however be incredibly shy, and perhaps even run away, or transform back into his true form. Whatever the case, as a human, he's a nice, quiet, shy guy, who can be a little bit weird and perhaps enthusiastic about things, with his friends. This generally changes, however, when he's in a fight. Depending on the situation, chances are that Vorg will be in his wolf form, and circling around his opponent, observing and watching them. He'll become absolutely vicious or coldly quiet, adapting to the neccesity of what's needed, at hand.
Mentality:
Be quiet and listen first. The Shaman taught him that.. through actions. Always to excercise any and all virtues when possible, even at the cost of your own gain. Why? To set the standard for the generations to come, and so forth and so on. To show that there can still be humbleness in the world, whether it be from humans or anything else, to resist pride, and to do not what is always best.. but to try and do what is right. Granted, this mentality has a few holes that it has not thought through yet, and has rarely been in a 'gray-line' situation.. but, that may change soon enough in Arcane Academy.
Ideal:
"Honor in combat, respect for enemies, lead a humble-driven life. So that we may pass down these truths and values to the generations after us."
Belief:
Spirits of the World and the acknowledgement of other deities, though he prefers to leave many things alone and not bother them.
Wolf Body Language
Wolves can visually communicate an impressive variety of expressions and moods that range from subtler signals, such as a slight shift in weight, to the more obvious ones, like rolling on the back as a sign of complete submission.
~Dominance~
A dominant wolf stands stiff legged and tall. The ears are erect and forward, and the hackles bristle slightly. Often the tail is held vertical and curled toward the back. This display shows the wolf's rank to all others in the pack. A dominant lupine may stare penetratingly at a submissive one, pin it to the ground, "ride up" on its shoulders, or even stand on its hind legs.

~Submission~
In active submission, the entire body is lowered, and the lips and ears are drawn back. Sometimes active submission is accompanied by muzzle licking, or the rapid thrusting out of the tongue and lowering of the hindquarters. The tail is placed down, or halfway or fully between the legs, and the muzzle often points up to the more dominant animal. The back may be partially arched as the submissive wolf humbles itself to its superior; a more arched back and more tucked tail indicate a greater level of submission.

~Submission (Passive)~
Passive submission is more intense than active submission. The wolf rolls on its back and exposes its vulnerable throat and underside. The paws are drawn into the body. This is often accompanied by whimpering.

~Anger~
An angry lupine's ears are erect, and its fur bristles. The lips may curl up or pull back, and the incisors are displayed. The wolf may also arch its back, lash out, or snarl.

~Fear~
A frightened wolf tries to make its body look small and therefore less conspicuous. The ears flatten down against the head, and the tail may be tucked between the legs, as with a submissive wolf. There may also be whimpering or barks of fear, and the wolf may arch its back.

~Defensive – A defensive wolf flattens its ears against its head.

~Aggression~
An aggressive wolf snarls and its fur bristles. The wolf may crouch, ready to attack if necessary.

~Suspicion~
Pulling back of the ears shows a lupine is suspicious. In addition, the wolf narrows its eyes. The tail of a wolf that senses danger points straight out, parallel to the ground.

~Relaxedness~
A relaxed wolf's tail points straight down, and the wolf may rest sphinx-like or on its side. The wolf may also wag its tail. The further down the tail droops, the more relaxed the wolf is.

~Tension~
An aroused wolf's tail points straight out, and the wolf may crouch as if ready to spring.

~Happiness~
As dogs do, a lupine may wag its tail if it is in a joyful mood. The tongue may loll out of the mouth.

~Hunting~
A wolf that is hunting is tensed, and therefore the tail is horizontal and straight.

~Playfulness~
A playful lupine holds its tail high and wags it. The wolf may frolic and dance around, or bow by placing the front of its body down to the ground, while holding the rear high, sometimes wagged. This is reminiscent of the playful behavior demonstrated by domestic dogs.
Physical Information:Build:
~Wolf Form~
As far as it goes, his legs are tough and able to travel for long distances, his back his knitted tightly with muscles, worked hard, and is something hard to get to, given the amount of fur, is not at all like armor, but does a decent job at letting blows slide atop him. Like any other sentinent being, however, his weakpoint is his throat. Knowing this, it is generally his most guarded position, or one that he strikes with the most, so as to make foes attack more hardier parts. The sinews in his muscles in this form... his legs.. are strong indeed.

~Human Form~
For the larger mass, less of his muscles transfer over, opening up weaknesses on his chest, stomach, head, and throat. He is definetly more vulnerable in this form, and generally will only resort to this if he's in a situation of communicating with other humans, or if he needs the more long-ranged spells. However, that does not mean he is without muscle like this. His arms and knuckles are lean, but strong. Not as ripped as his wolf form, but enough to land quick punches. His legs, like in his wolf form, however, remain strong, and can keep him running for long distances, provided his endurance lasts.
Head:
~Wolf Form~
Generally, this can be viewed as a weakpoint by many, but, is generally avoided, as his fangs just happen to 'incidentally' be one of it's appendages. Since his attack styles in his true form are generally going for the kill, clawing strikes, or rushing past, this is actually one of his more defended areas on his body. That, and the handyness of forcing your opponent(s) to attack low is also a plus.

~Human Form~
A personally opinioned bane of him, as a wolf, he feels that he is too obvious of a target, and generally finds it more akward, usually crouching to lower positions, and sticks to weaving or running, to keep his most important appendage safe. However, whenever he is in human form, this generally means he doesn't favor close-range attacking, and therefore tries to keep his head as far away from his opponent as possible.
Torso:
~Wolf Form~
His unguarded spot, this is generally so low, that unless he's leap-attacking someone, this is not exposed, and is generally kept safe between the haunches of all four of his legs. However, it attacked effectively, Vorg can end up quite vulnerable, and take a few precious seconds to recover from such an attack to a general weak spot. That does not mean that this is altogether weak, however, because, as a wolf, he is, after all, built for endurance, and thus, due to his narrow chest, is able to travel for miles on end, if need be.

~Human Form~
Almost a six-pack, but not quite there, Vorg if forced into melee will generally try to distract opponents of this, by attacking them viciously with many punches and kicks. A good few punches to the stomach however, can wind him, or even knock him out.
Arms:
~Wolf Form~
This should probably be looked more to as his 'fore legs'. They're sinewy, and possess a lot of muscle, along with claws that is used to attack an opponent's sides, neck, or even legs, while rushing past, and allows him to dash with ease.

~Human Form~
His arms are his shield, his cover, but, prioritizing Shamanistic rituals in this form, he generally can't defend himself too much with it, and must break whatever spells he may have attempted to cast, in order to break into melee to defend himself.
Legs:
~Wolf Form~
His hindlegs. This is where the dashing power comes from, that enables him to travel from 10 km/h (6 mph) at a trotting pace, and has been known to reach speeds approaching 65 km/h (40 mph) during a chase or attacking. Though not incredibly fast, he is not to be trifled with.

~Human Form~
Obviously then, he inherents quite the sprinting ability as a human, and can last for quite a while longer then normal born humans, making it easy for him to build distance before attacking. However, his endurance is just not quite the same as a human, and therefore, cannot prove his speed beyond 'inhuman' measures while in human form.
Feet:
~Wolf Form~
Vorg's paws are made for travelling over wide varieties of terrains. Being digitigrade (walking on toes), the largeness of his feet allow him to distribute his weight evenly when walking on snow, and especially when shifting weight to weave back and forth to confuse opponents as to which side he'll be attacking from. The front paws are larger than the hind paws, and feature a fifth digit, a dewclaw, that is absent on hind paws. Bristled hairs and blunt claws enhance grip on slippery surfaces, and special blood vessels keep paw pads from freezing. Furthermore, scent glands located between a wolf's toes leave trace chemical markers behind, thereby helping the wolf to effectively navigate over large expanses while concurrently keeping others informed of its whereabouts. ..If there were any other wolves that travelled with him.

~Human Form~
Due to a lot of shapeshifting, Vorg has decided ultimately to keep the shoes and sandles off, often favoring his own feet against the ground, to get a better feel of what he's up against. This, however, can and has ended with him injuring his feet, and ultimately his paws. They are strong and thick-skinned, however, so it is not to be underestimated.
Back:
~Wolf Form~
His back is tough, tough, tough. The muscles are hard and is enough to at least slow a blade down to a halt, before it hits anything important. That, and the cover of fur allows him to use his back, his hugest defense, to an even greater advantage over his foes.

~Human Form~
Muscular, broad, strong, this is probably also his greatest human feature, and is a sign that he can at least be useful for manual labor..
Apparel Information:
~Wolf Form~

-Naked-
Unless he plans on transforming into a human in public, you'll only see him with the fur on his back. However.. if he does have a need to do so.. expect to see a rather dopey-looking wolf, with glasses on, a large shirt, and pants on his hind legs to walk into the vicinity...

~Human Form~

-Shirts-
Generally, he wears collared shirt, but is not limited to this. To him, it generally doesn't matter what he's wearing.. so long as it fits.

-Pants-
Jeans are the pants of choice here. And when turning into a wolf on the run, he can just pop out of the top of them.

-Glasses-
Sadly, his good sight does not carry onto his human form, and must sometimes wear these rather strong glasses as a wolf, if he intends to turn into a human in public, along with the rest of his clothes. He has gotten dizzy on more then one occassion because of this.
Equipment:
-Bag-
Being able to sling it around his neck as a wolf, or on his shoulder as a human, this allows Vorg to carry items and/or equipment, in times of haste and/or need. Having two straps, it doubles as a tight 'backpack' with straps going tightly around his two forelegs, ensuring for mimimal cajoling of the bag itself. Weights 10 lbs.
Fighting Information:Style(s):
Warrior Wolf
Shaman Ritualist
Style(s) Description:
~Warrior Wolf Style~
As a wolf, Vorg's style is more to the point. Find the opponent(s) weakness and strike at vital points with ruthless and feral brutality.
However, due to the influences of the Shaman, there is more honor inspired into this. To fight recklessly for what he believes in.. even at the cost of his health, his life, so long as it is HIM that is making the choice.. that is his way. A choice. His choice.


~Shaman Ritualist~
Absolutely new to this by only a few years, Vorg has only come to understand a few elements. It is a style of complete respect for the spirits and for all things, to 'ask' for things to be done. In return, some of his developed 'magical energy' is used to contract the use. Powerful.. yet humbling, particularly to the user. Unlike most magicks, this involves the user specifically 'asking' something for his/her powers. This is actually far superior to his 'Warrior Wolf' ways, but, he has yet to grow substantially enough to make his 'Requests' work properly.
Strengths:
~Wolf Warrior Strengths~
Being a wolf, he has enjoys many advantages over many aspects of fighting. He can become dominant on vast fields, where the grip of his paws will propel him, as he runs down, encircling the enemy, striking at them with fangs and claws.. Speed is his advantage. In how he moves, how he strikes, it is his speed that he uses. And with the momentum he uses, he uses that additional speed to further increase the damage of his attacks.
:Strengths List:
- Wolf: Enjoys Naturally Wolf-Attribute Benefits -
- Fields/Open Flatlands: Familiarity/Specialty Advantage -
- Speed: Enjoys A Naturally High Speed Control -
- Weight: Can Put Entire Weight Behind Every Attack -

~Shaman Ritualist Strengths~
The advantages of a beginning Shaman are low, but are still prominent. The advantage of being able to deal out a lot of damage from a far distance has its own appeals.
:Weakness List:
- Abilities: For A Beginner Enjoys Rather High-Billed Powers -
Weaknesses:
~Wolf Warrior Weaknessess~
Perhaps most prominent of his banes are his list of weaknesses. Being a wolf, he is overly suspicious of things that 'seem unnatural'. And having the sense of a shaman, these 'unnatural things' list expands tenfold. This can him pause at critical times or make him too hesistent when times of aggressiveness is needed. His attacks with fangs and claws are also somewhat nullfied against heavily armored opponents, resorting to bashing them with the sheer weight of his body, resulting in damage to himself. Also, the fact that he can't make requests as a wolf makes him limited in use against most magic users. Fire is a heavy issue here, as it can catch onto his fur, and be fed with the wind that he uses to run. Which is worse, because he would panic if this were to happen. And the fact that many of his attributes rely on large, vast plains also worsens things..
:Weakness List:
- Unnatural Things = Fear, Hesitance, Suspicion, Pausing -
- Magic Users = Limited, Fear, Unable To Magically Counter -
- Armored Foes = Fangs And Claws Useless, Bashing Will Hurt Self -
- Fire = Fear, Panic, Loss Of Sense, Exceptionally Vulnerable -
- Floors With Sharp Objects = Hinders Ability To Run And Attack Greatly -
- Small Rooms = Unable To Fully Utelize His Locomotion Capabillities -
- Small Confined Spaces = Panic, Rage Or Depression (Depends On Circumstances) -
- Small Size = Unable To Reach Anywhere Without Extra Effort -
- Naive = Lacks Common Sense On Some Modern Things -
- Sweltering Heat/Sun = Must Find Shade Or Keep Himself Cool Due To Heavy Fur -
- Slippery Surfaces = Must Use Claws To Keep Self Standing, Claw Attacks Minimalized -
- Large Bodies Of Water = Only Able To Dog Paddle (Slow Swimming Technique), Doesn't Know How To Dive -
- Climbing = Unless The Said Climbing Area Is At An Angle Or Is Soft Enough To Use Claws In, Cannot -
- Sensitive Smelling = Vulnerable To Terrible Odors -
- Sensitive Hearing = Vulnerable To High Frequencies -
- Heights = Is Afraid Of Them -
- Equipment = Cannot Use Anything Requiring Opposable Fingers/Thumbs -
- Large Moving Objects = Things Like Cars And Tanks, Must Avoid Them Or Die -

~Shaman Ritualist Weaknessess~
All the more, as a human, his Shaman abilities are quite poor, having only started out. His magical prowness in general, in fact, is lacking, and has very limited amounts of energy. And granted, he is a larger target like this, as well as the fact that he is all the more easily scared in this form. Being human also doesn't help the fact that he is not as capable as his wolf form in fighting hand-to-hand, even if he isn't completely defenseless with his arms. Going unarmed is also an issue here. The fear of heights stays consistent here. Unable to simply run at his opponents and crash into them with fangs and claws is also a bit disheartening for him, and can't stand the pressure of fights as well as he can as in his wolf form, which can cause him to panic. He must rely on someone to watch his back in this form.
:Weakness List:
- Beginning Shaman = 'Weakish' 'Requests', Not Enough Energy -
- Magical Lacking = Unable To Learn Spells/Magicks As Easily, Limited Energy -
- Human Flaws = Larger Target, Less Muscled -
- Unarmed = Unable To Fight Hand-To-Weapon And Win, No Physical Defenses Against Guns And Magic -
- Green To Battlefield = Less Morale, Panics More Easily, Unable To Handle Loud Noises -
- Heights = Is Afraid Of Them -
- Dependencies = Needs A Fierce Warrior To Watch His Back While He 'Request's -
Years Practiced:
Warrior Wolfism: All His Life (Instinct)
Shamanism: 3 Years
History Information:History:
Hidden for now.
Attributes:
~Observant~
To be aware of one's surroundings, of the people you are around are natural survival instincts. He doesn't dedicate time to this, but more rather.. he can't help but noticing. It's a way to pick up on 'gossip' (apparently, a silly human thing that involves talking behind each other's backs), but more importantly, getting to know the people you're around, to truly get to know the person, behind the face.

~Quiet~
Though wolves are often sociable creatures, there are those, that while staying in a pack, may go off and do some things on their own, and keep to themselves. Staying quiet in most situations, Vorg can humble himself, to himself, and to anyone else he needs to, to show his respect, or to simply not bother them, or be bothered by whoever's in a close proximity.

~Loyal~
Being a wolf, there is a large desire for a sense of companionship of a pack. Vorg himself is no exception, and though friendship is not exactly his forte, due to his upbringing, to all comrades who fight for a similar cause, alongside him, it is his duty to fight to protect, with as much gusto as possible. To the edge of risking his own life, if need be. Idle thoughts of treason is non-existent here.

~More To Be Found Out, Later~
Living Status:Type of Resident:
None
Roommates:
None
Notes:
- Profile is too large for one post. Had to seperate and accomodate, so that the other half is put immediatly into 'Quick Links'. -
- Working with The Designer and The Helper to help further 'The Beast' and 'The Republic of the Beast'. History has been Pre-Okayed by Designer. -
- Most abilities are statistic oriented. -
- Vorg can only be human for an hour a day. -
- More abilities will be added accordingly, due to character growth or when enough time to refine details of character is found. -