Post by blackflamerose on Dec 21, 2006 3:07:02 GMT -5
Name:
Dementia Rose Valent
Occupation:
Apprentice to the Mythical creature Guardian.
Description of her job:
She Helps the Guardian raise abandoned animals, Tame them, and ensure their existence. She also learns spells(Will be listed) to help her complete the jobs.
Nationality:
American
Race:
Dark angel
Height:
5'8"
Weight:
150
Age:
120
Birthday:
October 31
Zodiac:
Scorpio
Chinese Zodiac:
Dragon
Hair Color:
Black
Eye Color:
Ice blue
Appearance: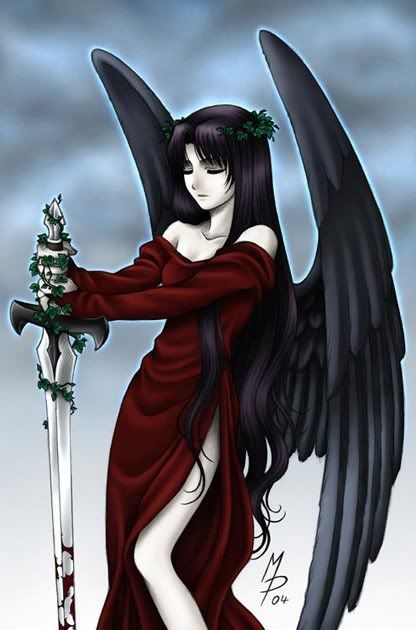 Head:
Long black hair cascades down her back to touch her hips. Rose colored lips untouched by lipstick. Skin pale like milk. Black eyeliner and full lashes. A white or red rose is usually worn in her hair. A crown of olive leaves is some times the substitute.
Torso:
A Red silk dress covers her form at all times. The style often changes and it always smells of blood and roses. Her wings protrude out of her back just between her shoulder blades. The dress has two holes in it for the wings to stick out of. A tattoo on her lower back reads "Devil girl" in red.
Legs/Arms:
She has a 'brand' or tattoo of a rose bleeding (where she obtained this shall be explained in her history). She also has a scar running down her left leg (also explained in history).
Personality:
She is quiet and rather reserved around people she does not know. It takes her some time to trust people because of her past. When in a fight she is quiet. She will only taunt her opponent if she is loosing. She hates to loose slowly. If she feels like she can not win she will do her best to make her opponent annoyed or angry so that he or she will finish her off quickly. If she is winning she doesn't talk for fear of making the person feel bad. She tries to end the fight quickly thinking it is not nice for people to wait for their end.
History:
She was born to the most beautiful angel to exist. Well in her opinion her mother was the most beautiful angel ever. Her mothers name was Serenity. The angel had long silvery gold locks of hair. Her skin was pale yet soft as silk and she wore a gorgeous white dress that flowed around her like she lay in a river of clouds. The father was a demon. Her mother kept this a secret but she could not for long. The higher ups found out and banished the small child to the depths of hell. Her father was seen as a hero for ruining two lifes. Though he felt horrid. He had fallen in love with the angel Serenity and once his daughter was sent to his land he kept his joy hidden behind a shell of evil.
Dementia was only two at the time. Her wings were short and no bigger then a birds wing. Her father found out what had become of her mother and it was a horrid. The worst thing that could have happened to a beautiful pure angel. Her mother was placed on earth in a land of sin. Her powers and wings were stripped and she had to watch the pain and suffering with out the ability to help. She was mortal then and died as soon as the children of the land became ill. She was sick constantly, her worry for her child weakend her mentaly and physicaly. She eventualy died of an illness coupled with a broken heart.
The father of Dementia was called Daniel. At the time of him recieving the child her name was Rose. This would not do for a banished angel, or Dark angel. Her father kept the name that the mother had given the child yet only as a second name. He gave her the name of Dementia. She would grow up learning her fathers ways. She mastered the "Art" of seduction at age 15 and was to be the angel of lust. Her father was so proud. Dementia served the underworld and her father for many many years. The Angel of lust was an interesting job after all.
How ever she eventualy became infatuated with someone at the age of 149. Her father sent her off a year later because the person his daughter had fallen for was an angel. He would not allow his daughter to befall punishment for having a heart. Since most everybody suspected the child of crushing after a human she was seen as a discusting thing that wore a mask like them.
Her father could not bare his daughter's sadness and sent her off with a heavy heart to Arcane Academy.
Style:
Elemental: In order to tame certain creatures a elemental power is needed. The three elements she uses the most are Air, Water and Earth. She has yet to learn the rest. Any spell she uses containing the elements above can go wrong if she is slightly distracted.
Physical: Some animals and people may only go down with a physical attack. There for she knows a few vital points on a persons body. She usualy only goes to use those vital points to place some one asleep. On an animal she will use what ever force is nessisary.
Mental: Some spells she knows allow her to use telepathy. Some animals may only be calmed because she speaks to them mentaly and at a time when they are emotional the only thing they can hear is what is going on in their own mind. She has vowed never to use her mental powers on a person.
Strengths:
In battle she plots out possible moves for the opponent giving her self a slight edge. As far as personality goes she is a very strong female. She has much pride in her work with the animals and it shows.
Weaknesses:
Wings. If harmed in any way she becomes shaken and looses focus on the fight. Plotting ahead is a way that she trys to avoide such problems. She can be very very flirty. This often gets her into trouble with other girls and often the men them selves. After a spell or telepathy she becomes slightly ill or sleepy.
Spell List:Elemental spells:
Earth:
Trigol: Drawing a triangle in the dirt below her feet and letting a single drop of her own blood allows her to take hold of the earth below and create "golems". How ever after 20 minutes the "golems" return to the ground. She can only make three right now. (mana cost 5)
Air:
Flowestu: A feather plucked from her wing and a yellow stone coated with a layer of her blood must sit in her right hand. This allows a rather annoying gust of wind to surround her enemy though it can not do much damage other then toss dirt into her opponents face. This she can hold for at most 5 minutes. (Mana cost 1)
Water:
Gillung: If her opponent is in the water or the animal she wishes to catch for that matter she can pick up a hand full of the water and mixing it with her blood she holds the water within her mouth and can breathe under water for at most a half an hour. So this is not yet perfected. (mana cost 10
Mental:
Telepathy:
Her telepathy will only work for an hour before she becomes sleepy. At this time she will usualy ask to be exused. With her power of telepathy she can also block unwanted intruders from entering her mind as well, Though most intruders have lower intelegence and there for are the only ones to fail at getting past her mental barriers. How ever this does not at all weaken her, unless the person she is trying to block is one with higher intelegence. (mana cost 10)
Weapons/Gear:
Two small 3 inch daggers hidden under her dress.
A necklace that blocks mental attacks given to her by her teacher.
A single rose pin that is actualy an injector of toxic plants.
Items:
None yet.
Summons, Familiar, Pets:
None yet.
Stats:
Fights:0
Wins:0
Loses:0
Ties:0
Fight EXP:0
Class EXP:0
Mission/Event EXP:0
Total EXP:0
Strength: 10
Dexterity: 10
Endurance: 10
Intelligence: 10
Wisdom:15
Energy: 10
Note: