Post by Shin Daisuke on Jan 8, 2007 12:20:58 GMT -5
Name:
Shin Daisuke
Occupation:
Spirit Summoner
Nationality:
Japanese
Height:
6'1''
Weight:
200 lbs
Age:
18
Hair:
Black, Medium length
Eyes:
Blue
Appearance: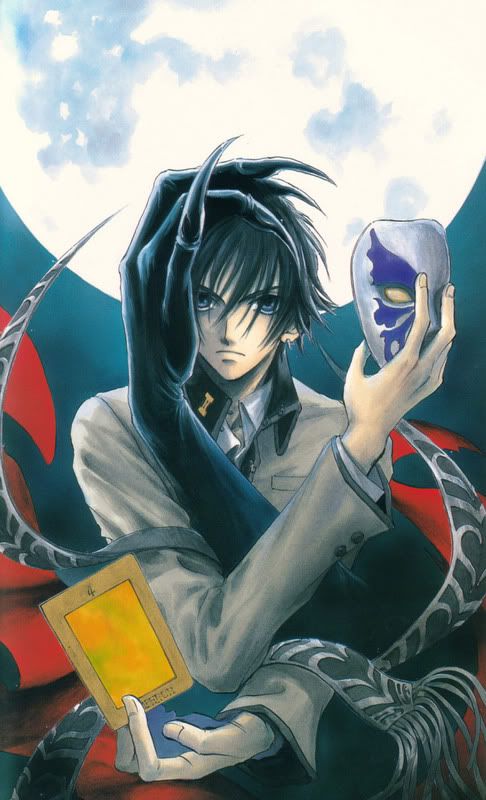 Personality:
Shin is your average Japanese teen. He studies hard, and has had little time to goof off with friends. Having grown up being told that he would one day fulfil his destiny, he likes to live in the moment, taking life as it comes. He dreads the day he will be made the head of his family, and so dislikes being asked about the future.
History:
Shin was born and raised in a small village in the mountains of Japan. His caretaker and mentor was his grandfather, his parents still living in Tokyo, working at their regular jobs and dealing with spirits in secret. The first few years of his life were peaceful enough, living like any other child with the exception that he often played with the forest spirits, and listened to his grandfather tell him tales about his life as a Spirit Summoner. It was a simple existence, but a happy one.
However, his carefree nature was challenged when he turned eight. His father came to visit Shin, an event he was very excited about. He had not seen his parents much, and so looked forward to it the entire week beforehand. His grandfather on the other hand, seemed nervous the whole time, constantly fogging the boy's queries off and telling him to go and enjoy his week.
When finally the day of the arrival came, Shin could barely contain his excitement. But when the man he knew only as father stepped out of his car with a serious look tattooed into his face. He showed no love for the boy, but rather inspected him as though he were a painting, asking his grandfather a million questions about how he had been raising the boy. Shin could not understand his fathers actions, and began to worry when he and his grandfather began having secret meetings, forbidding the boy to enter.
After three days, his father thrust to him two holsters, one full of blank cards, the other containing only one which was marked with strange symbols. He bid him goodbye, and took off in his car, leaving Shin's grandfather to explain what had happened.
The old man told him that the cards were the tools of a spirit summoner, and that the one card with markings belonged to the demon Ihriel. He told him of his fate, that he would become the head of the Daisuke family, and that he would be forced to hunt spirits and defeat them for the rest of his life. This meant that he would never lead a normal, simple life like he had been ever again.
For years Shin's grandfather trained the boy in the ways of the summoner, giving him all the advice he could and making sure he understood the implications of what he had to do. Shin studied at great lengths and captured all the basic spirits that were required of him. However, he had never used the Ihriel card, as his grandfather explained to him that he should not until he believed he was ready.
One night, he was walking through the woods near his home, looking intently at Ihriel's card. He had read much about the demon. It was a consumer of souls, and was once one of the most feared demons among mankind. How he came to be captured by a Daisuke was unknown, but he was apparently the reason for much of his families' success, working for the head of the family in each generation. As he pondered all of this, a foul beast snuck up on him. It leapt into attack, startling Shin and throwing him back to the ground. He did not know what to do, never having encountered a corporeal monster before. He suddenly thrust the card in the beast's face and shouted Ihriel's name. Suddenly, the card vanished, and his arms became long and black. He slapped away the beast with relative ease, then leaping onto the creature and plunging his dark arm into the creature, ripping it's still beating heart from its chest. The monster died instantly, and the arms faded, leaving Ihriel's card in his grasp.
He did not speak of the incident; though he had a feeling his grandfather knew that he had used the card. It was a sensation he had likely gone through himself. He continued to live with in the mountains until his 18th birthday. His grandfather explained to him that he would be taken to a place called Arcane Academy to finish his training, and to be exposed to the world of magic. And sure enough, that night, two Tracers showed up to take Shin to the Academy. He said his goodbyes to his grandfather and to the local spirits, before being taken to the island in the sky…
Style:
Card Summoning is an ancient skill that predates many magic's. This particular school of card summoning has been used by the Daisuke family for generations. It incorporates the capturing of a sprit into a magical card created by the mage. Once captured, the mage can do many different things with the spirit, depending on the situation.
Strengths:
Shin is as strong as his deck, and as long as he continues to capture a wide variety of spirits, he will always have versatility on his side. He is quick to draw a card and summon a spirit, barely having to glance at the name to be able to call it forth due to his intense studying of the cards. He is also quite bright for his age, and so is often able to notice things others would miss.
Weaknesses:
Physically, he's nothing special. He's spent almost all his life developing his mind, and very little time developing his body. Without his deck, or an already augmented spirit, he is just as helpless as a regular non magical person.
Spell List:
Summon Spirit
The caster draws forth a card, either from their deck or a pre planned card. They then call forth the name of the spirit written on the card, and instantaneously, they gain the abilities of the summoned spirit. If drawn at random from a summoners deck, the powers are amplified, however, if the card is produced from anywhere else, the spirit will be weakened, and so too will their powers.
Project Spirit
The caster is able to call forth a chosen spirit in their possession to appear as a physical entity in a non combat situation. Mage's often use this to consult the wisdom of the chosen spirit, however there are other uses.
Astral Sight
The caster is given the ability to peer into the astral plane to see spirits, ghosts and other beings that exist on an ethereal frequency.
Capture Spirit
The caster, once having drawn the spirit to the physical plane (if it is not already on it), and having weakened it, procures a blank card from their free deck and chants an incantation in an ancient archaic tongue. If the spirit has been sufficiently weakened, they are then pulled into the blank card, and their name is written in an ancient symbol upon the card. The caster then adds the card to his deck, binding it to the caster.
Weapons/Gear:
Shin carries with him a deck of cards with blank spaces on them save for one that has Ihriel's symbol on it. Each card has the capacity to call forth a captured spirit so that he may utilise its powers. He also holds possession of the mask of Ihriel, which when worn allows him to find spirits more easily, and allows him to capture them with greater ease. It does however drain him of energy, as Ihriel consumes his mana while the mask is worn.
Items:
None
Summons, Familiar, and Pets:
Ihriel The Consumer
The only demon Shin has ever encountered. Ihriel is very powerful, and has been in the Daisuke family for as far back as their history can be traced. He is given to each heir to the head of the family, and serves them until they bare a first borne son. Although his strength is beyond measure, he can only be utilised to the extent of the user's abilities.
(Card: Ihriel)
The 4 Elements
Earth, Water, Fire and Wind are governed by many spirits of their properties. Shin, as an early lesson, was told to capture a spirit of each element, which he accomplished without too much trouble. They allow limited control over their respective elements, but as they are only simple element spirits, they are not very powerful.
(Fire Card: Ban'ang)
(Water Card: Tasek)
(Earth Card: Rod'radi)
(Wind Card: Aldayc)
Nature Spirits
Like the elements, these are simple spirits that govern things in nature. Also an early test given to Shin, he managed to capture 3, an insect spirit, a forest spirit and an animal spirit.
(Insect Card: Zusuk)
(Animal Card: Eng'entho)
(Forrest Card: Udeythi)
The Muses
Shin holds control over 3 muses encompassing Music, Art and Dance. These were found by him in times of need, all of which chose to be captured by him.
(Music Card: Ril'qua'al)
(Art Card: Ryn'ine)
(Dance Card: Roth'inee)
Stats:Strength:
9
Dexterity:
9
Endurance:
7
Intelligence:
10
Wisdom:
15
Energy:
15