Post by The Keeper, Engal on Jan 22, 2007 14:42:07 GMT -5
Name:
Engal Desmunti
Pronunciation:
en-gul des-mun-ti
Occupation:
School Records Administrator and Grand Librarian
Sex:
Male
Age:
1052 Years
Race:
Ancient Species of Elf [Uru'tan]
(One of the last surviving members)
Height:
6 ft.
Weight:
165 lbs.
Appearance:
300 Years ago to Current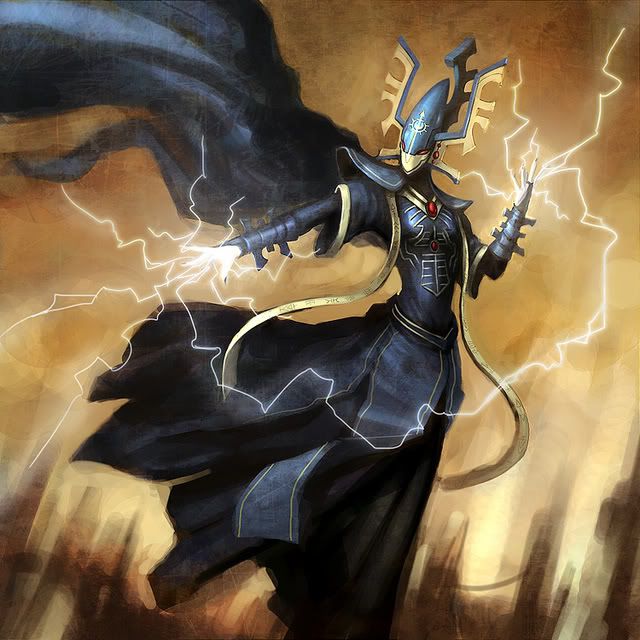 301-753 years ago
754-900 years ago.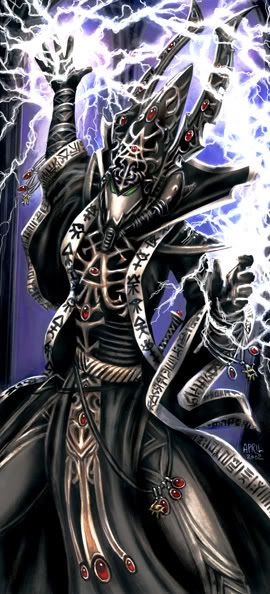 History
Engal is one of the last living decedents of the Uru'tan clan, an ancient race of elf. His place of birth remains a mystery however he is able to trace his origins. His father was the former elder of Uru'tan and his mother was a devote follower of his father, a little too devote if you know what I mean.
Engal had no siblings and thus his childhood was rather boring and he could often be found sneaking into his father's sanctum to play with the magical devices. At the age of 12 he encountered a device that would forever change his life, The Eternal Talisman. When he first touched it, the device electrocuted him, causing him to black out. While in the dazed state when he awoke, he acted again as a stupid child and grabbed the Talisman again, this time the device was not going to let him off so easily. It shocked him with such force that he could not drop it and it burnt into the flesh of his hands. When he tried to free his hand by grabbing it with the other, he soon found that now both his hands were stuck to the device, his nerves would not let him drop the artifact. After about a minute of electrocution and torment, he passed out again. When he awoke he did not recognize himself. Where once there was a child's face, now there was a much older one... an adult one! When he looked at his hands he noticed that the Talisman was gone, the only thing that remained where it was were two burn marks, one of each hand. Assuming that his father had saved him, he ran to seek his aid in healing his wounds. As soon as he showed his father his hands, his father knew what he had done, the artifact had fused with Engal and he was forever entrusted to protect it. Engal spent the next 88 years of his life learning how to use his new gift and curse to enhance the magics and spells of his people. You see when the Eternal fused with him, he gained extraordinary magical abilities. The Uru'tan were famous for their ability to move objects with their minds, however, Engal could lift and move far larger and denser objects than any other living Uru'tan. The Eternal also granted him incredible mental abilities, such as perfect memory. To this day Engal can recite anything he has ever glanced at, even once; he can do the same with conversations. At the age of 100 Engal decided that he had learned all he could from the Uru'tan and decided to take all the teachings of his people and travel.
He traveled what seemed blindly, picking up on more spells and magics till he mastered each, for hundreds of years, until one day. On this very special day, he came to a random portal... Even though he thought it a bad idea, he walked through it and found himself on a realm known as Earth. Strangely enough the portal closed behind him, leaving him in this new realm. What stood before him was a grand structure full of energy, magical energy. It was a place he would learn to call Arcane Academy.
Personality
Engal is very strict in his teachings, so much so that he currently does not have a class. He is understanding, but will argue to the death unless proven wrong with facts, in which he will apologize and admit defeat. He is often found in the library reading books he has read hundreds of times over, he believes that only the educated succeed in life. He is the guy that handles the paperwork for suspensions, expulsions, and transfers. Records are his specialty and his ability to memorize everything he sees and hears makes him very literal and an offensive correcter, (He will correct you if you are wrong and damn you if you flipflop).
Strengths
Engal is a powerful magic user, although retired in active offensive spells. Engal is covered in a special armor made from a special metal called Uru. (Guess where he got that). It covers every inch of his body and helps him control the powers he harbors within himself. Engal can move objects with his thoughts and has an incredible memory.
Weaknesses
Even though Engal is covered in armor, he is not physically strong or fast. Even though it gives him superior protection he often forgets that he can be hurt and that his armor is not impenetrable. Also Engal is very strong headed which could lead him into difficult situations however those are rare.
Primary Style
Lightning, Raw Energy, Mind Magics

Most commonly used spellsShocktor Griff
Engal uses high voltage electricity to disrupt the nerve pulses in ones body, paralyzing them.
Energy shield
Used daily, Engal manipulates energy to form a thin but strong covering over himself to provide extra protection from magics. (It comes in handy around the Academy since many of the students cannot handle their magics very well.)
Other Spells:
Will not mention unless someone chooses to fight Engal.
Stats:
Strength- 5
Dexterity- 20
Endurance- 20
Intelligence-80
Foresight- 55
Energy- 60