Post by The Judicator on Feb 10, 2007 13:11:25 GMT -5
Name:
Damien Kross "The Jester"
Occupation:
Halsephea's Personal Assistant
Nationality:
100% Irish
Height:
5'11
Weight:
164 lbs
Age:
18
Hair Color:
Red
Eye Color:
Green
Appearance: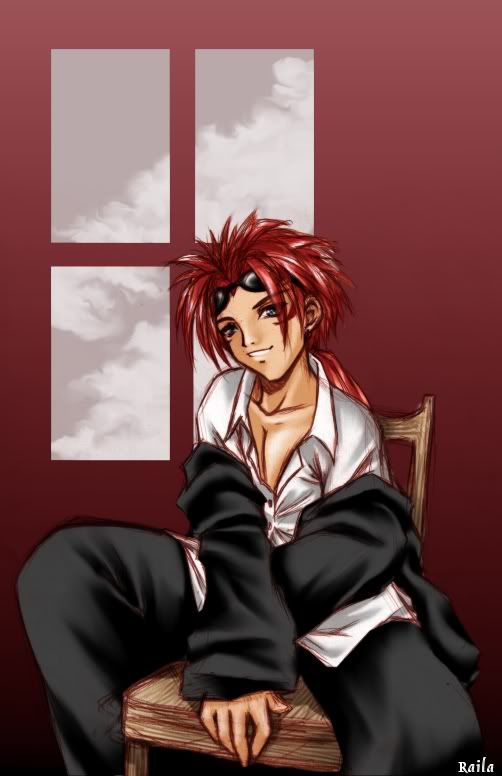 Personality:
Damien Kross is a charismatic, funny, yet annoying person. He loves fun, girls, and of couse, gambling. If any situation comes his way that requires deep thought, he'll throw that aside and flip a coin. He is surprisingly charming, and quite the gentleman.
His personality can be compared to a combination of Captain Jack Sparrow, Willy Wonka (Johnny Depp Version), The Phantom (Phantom of the Opera), and Benge (Vampire Hunter D).
History:
(This Damien Kross is obviously from an alternate universe, and thus, is not the Damien from 552.)
Damien Kross was born in the center of the gambling world, Las Vegas! His father was a poker dealer at some of the biggest casinos in Vegas, and his mother was four time blackjack champion. It's no wonder that Damien grew up a gambler.
By the time he was just nine, he was out gambling people on the streets and winning money. Eventually, his family moved to New York, due mostly to the slowly corrupting gambling business. Once in New York, when playing around with a deck of cards, Damien discovered something special about himself. He had magical powers.
He figured that it worked through his subconscious, as the magic could only be focused through certain objects: ie; gambling items. Cards, dice, and coins could all be infused with these magical energies.
Once he told his parents, they thought it best to send him to The Arcane Academy, so he could focus these energies.
Under the supervision of Halsephea, Damien learned to control his powers, and become quite skilled with them. In nine years under Halsephea's teachings, Damien nearly mastered his powers.
Once the time for his graduation came, Damien begged to be Halsephea's assistant, to which, he was accepted.
Style
Gambling
Strengths:
Damien is fast on his feet, and an excellent strategist. His near mastery of gambling magics makes him more than just a mere challange.
Weaknesses:
Damien's physical strength is a bit lacking. It is best to say that his strength is that of an average teenager with some time at the gym. The same is said for his endurence and vitality (Excluding stamina.)
Spell List:
Spell I:
Twist of Fate
Damien uses magic to fuse together the ends of cards to make a sort of whip which he controls. The whip can handle tasks like grabbing, slashing, and parrying.
Spell II:
Ante Up
An enchanted betting chip is thrown to the ground, emmiting a nova of energy that none can evade or escape. This assured hit reduces a foe's strength, dexterity, endurence, and intelligence by 3. This spell must be the first spell cast in a match, and cannot be casted twice in a match due to the complexities of the spell.
Spell III:
Gambler's Aegis
By enchanting a card with magic, it turns hard as titanium steel, and grows to be the size of a large minivan or Hummer (not as thick though. It retains the thickness of a card.) The main purpose of this is to act as a tower shield. The aegis is magically drawn to Damien's right forearm, and stays a few inches from it at all times, as if it were a real shield.
Spell IV:
???
Spell V:
???
Spell VI:
???
Spell VII:
???
Spell VIII:
???
Spell IX:
???
Spell X (Finisher)
???
Weapons/Gear:
A deck of cards, a pocket full of dice, and betting chips.
Items:
The Masquerade: A mask made by Halsephea to symbolize Damien's service to him. Adds 5 to one stat.
Stats:
Strength- 15
Dexterity- 35
Endurence- 15 +5
Intelligence- 25
Foresight- 30
Energy- 30